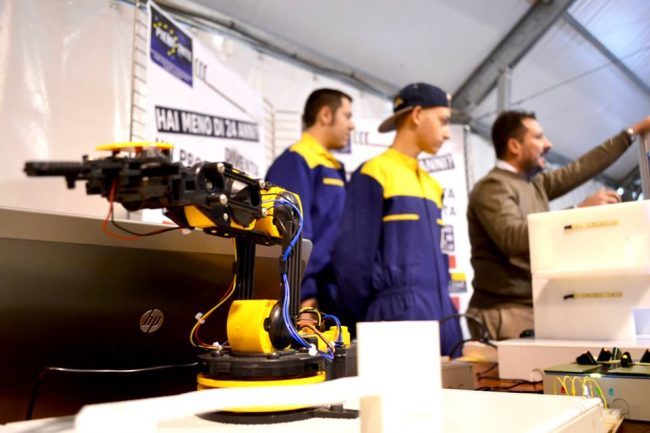 In just over three years, classes and enrollment have doubled at the C.IA.C. (Valperga) for the three-year mechanical operator program which teaches the construction of numerically controlled machine tools.
An interesting trend for both C.IA.C. and the entire territory, and in the coming years, we will be able to count on an ever increasing number of young promising mechanics.
The aims of the training offered by C.IA.C. are providing the right specialization for work demanded within the territory and also to give the opportunity, if desired, to continue training and enroll in maturity paths at state schools.
In the companies of the area, the employment indexes reward workers with these specialized skils. Moreover, the inter-annual variations of the recruitment procedures for the Cuorgnè valley, indicate an extremely positive trend with over 20% (Source: Regional Labor Market Observatory).
"This result", explains Piermario Viano, Director General of C.IA.C., "for us it is a source of great satisfaction and pride that firstly rewards the great commitment of management and also the staff of our organization. Who by continuously listening to the needs of companies and young people, have developed clear and targeted training proposals, and continue to promote a dual model that works both from the methodological point of view and makes tools and material available to our students, along with cutting-edge technologies thanks to the support of the Cinotto Family and SATA Group.
Our work does not end with the training process itself, we believe it is very important to accompany the students in post-qualification, through dedicated and functional services to professional integration ".
"Article taken from Il Canavese"
 Sata is pleased to directly support the training, in which the school becomes a crossroads of different worlds with the words innovation and technology at the center.The main objective is the enhancement and support of young students, to disseminate cutting-edge solutions applicable in the engineering industry.
The Group is also always attentive to the growth of technological and industrial culture throughout the Canavese territory, of which it is deeply linked. In addition, the development of skills and professionalism, together with the entrepreneurial vision, can create the conditions for long-term balance and security for the whole territory.